The client
The Lansing Central Office of Alcoholics Anonymoussupports the AA life saving message throughout Lansing and beyond. The Central Office sponsors recovery activities to help build fellowship and camaraderie in the community. Also available are many recovery materials and literature. They coordinate many behind the scenes logistical services required for AA to thrive. Among these responsibilities is cataloging 350 plus weekly AA meeting in the Lansing area. Directories are offered in hard-copy, and internet format. So that way those who seek recovery may readily find it. Additionally they offer a 24/7 support hotline that provides instant answers and relief to those that suffer with drug and alcohol addiction. This hotline is manned by a network of dedicated volunteers that offer inspiration, hope, and feedback to those who need help. Their altruism, lack of profit motive, and sincere desire to give back to others is truly inspiring.
Our approach
We began by conducting confidential one on one interviews with a wide cross-section of people in recovery. This pool consisted of people that have been sober from one to thirty or more years, AA volunteers, family members, and people of all ages and backgrounds. We then examined many other recovery based websites side by side; this sample included other AA offices, nationally known rehabilitation centers, hospitals, and other recovery programs. With our research and branding information in hand we constructed a website with a powerful message of hope that could be easily maintained and updated by volunteers. It was our pleasure to offer to assist in this worthy cause and help spread the message of unity, recovery, and fellowship that the Lansing Central Office of Alcoholics Anonymous personifies.
Uncovering Brand Truth:
One of our first steps on this project was conducting confidential one on one phone interviews with a wide sampling of people affiliated the Lansing area recovery. This pool of voluntary candidates consisted of men and women that have been sober from one to thirty or more years, AA volunteers, friends and family members, and people of all ages and backgrounds. Through our proprietary research methods we uncovered the most pressed wants and needs of the recovery community and condensed them into one singular and easily understandable branding truth. Or in other words; how the participants truly saw AA in the Lansing area. What they liked the most and what they felt need additional improvement.
The following is a word-cloud of the most frequently used descriptive words over the course of the interview process:
Logos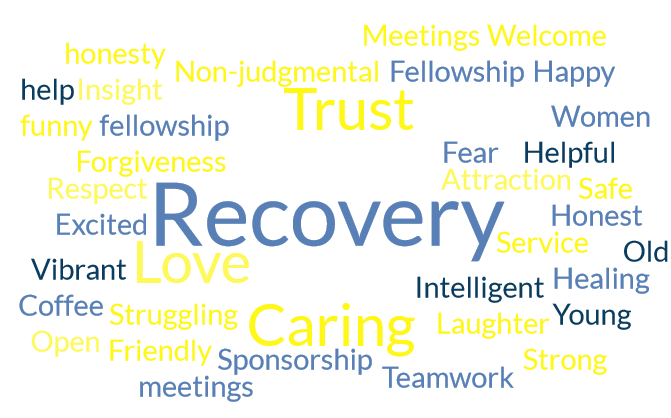 The participants all had different backgrounds and stories but the two words were used over and over again through out the course of the interviews:
Hope and Recovery
Our findings also suggested that making the site more user friendly; especially for newcomers to AA would be a helpful. To accomplish this an entire new section entitled "New to AA" was built. Its primary purpose was to welcome new arrivals as warmly as possible. Give them the ability to connect with a helpful, caring volunteer to could steer them in the right direction. And preemptively answer many frequently asked question they might have about the AA program.
Finally our research also revealed that people were seeing help for addictive behavior at younger ages that historically noted. This shift included many young people of college age in their early and mid twenties. To help encourage this as much of our photography centered around portraying young people enjoying the benefits of a life well lived clean and sober.
Logos


Main Color Palette